New Jersey Dentistry Practice Introduces New Diagnostic Light Device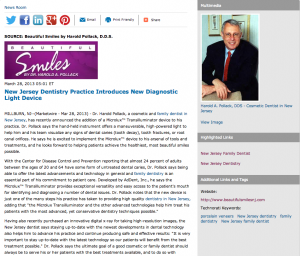 Millburn, NJ — Dr. Harold Pollack, a cosmetic and family dentist in New Jersey, has recently announced the addition of a MicroluxTM Transilluminator device to his practice. Dr. Pollack says the hand-held instrument offers a maneuverable, high-powered light to help him and his team visualize any signs of dental caries (tooth decay), tooth fractures, or root canal orifices. He says he is excited to implement the MicroluxTM device to his arsenal of tools and treatments, and he looks forward to helping patients achieve the healthiest, most beautiful smiles possible.
With the Center for Disease Control and Prevention reporting that almost 24 percent of adults between the ages of 20 and 64 have some form of untreated dental caries, Dr. Pollack says being able to offer the latest advancements and technology in general and family dentistry is an essential part of his commitment to patient care. Developed by AdDent, Inc., he says the MicroluxTM Transilluminator provides exceptional versatility and easy access to the patient's mouth for identifying and diagnosing a number of dental issues. Dr. Pollack notes that the new device is just one of the many steps his practice has taken to providing high quality dentistry in New Jersey, adding that "the Microlux Transilluminator and the other advanced technologies help him treat his patients with the most advanced, yet conservative dentistry techniques possible."
Having also recently purchased an innovative digital x-ray for taking high-resolution images, the New Jersey dentist says staying up-to-date with the newest developments in dental technology also helps him to advance his practice and continue producing safe and effective results: "It is very important to stay up-to-date with the latest technology so our patients will benefit from the best treatment possible." Dr. Pollack says the ultimate goal of a good cosmetic or family dentist should always be to serve his or her patients with the best treatments available, and to do so with compassion and courtesy. As he continues to pursue the latest techniques and treatments, he adds that ensuring the comfort and satisfaction of his patients remains the cornerstone of his work.
Dr. Pollack says he is eager to put the new MicroluxTM device into practice, and hopes to see patients recognize the benefits of modern dental technology as their results continue to improve. As with any dental instrument, he says the MicroluxTM Transilluminator should only be operated by a highly-trained and qualified dentist. Dr. Pollack urges anyone considering dental treatment to consult with a dedicated and experienced practice before undergoing a procedure, regardless of whether they are in need of a reconstructive procedure such as dental implants, or a cosmetic procedure such as porcelain veneers.
About Harold A. Pollack, DDS
A graduate of the Temple University School of Dentistry, Dr. Harold Pollack has been practicing cosmetic and general dentistry in New Jersey for over 35 years. He is a Fellow of the Academy of General Dentistry and has dedicated over 4,000 hours to his continued education. Dr. Pollack is a member of the American Academy of Cosmetic Dentistry, the Academy of Computerized Dentistry of North America, the American Dental Association, and several other professional organizations. He has also been selected as a Top Dentist by NJ Monthly magazine, "Favorite Kid's Doc" by NJ Family Magazine, and one of the "Best Dentists in America."
Located at 280 Millburn Avenue in Millburn, NJ, Dr. Pollack's practice can be reached at (973) 947-4331. He and his team can also be contacted online via beautifulsmilesnj.com or facebook.com/drharoldpollack.