Teeth Whitening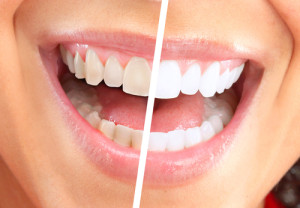 At Beautiful Smiles, we offer a number of professional teeth whitening options to help you attain a whiter, brighter, healthier-looking smile. The natural aging process, consumption of certain foods and beverages, and other factors can lead to discoloration and staining on the teeth over time. With advanced teeth whitening treatment, these effects can be dramatically reduced for results that bring forth a brighter smile that you'll be proud to show off as much as possible. Our cosmetic dentist, Dr. Harold A. Pollack, offers ZOOM!® teeth whitening procedures that are performed as an in-office treatment that can provide you with instant results. The procedure is followed up with custom trays and gel for touch-ups that can conveniently be done at home. These treatments can be ideal for individuals who are looking to quickly boost the appearance of their smile for an important upcoming event or simply to enhance their confidence in the way they look. With professional ZOOM!® teeth whitening, you can have the smile that gets everyone's attention!
What are the benefits of professional teeth whitening?
With teeth whitening procedures available at our practice, you can significantly renew the appearance of your teeth with exceptional results. Professional teeth whitening can address yellowing, staining, and general discoloration caused by factors such as:
The natural process of aging
Years of consuming beverages such as coffee, tea, or wine
The use of tobacco products
Dr. Pollack will evaluate the condition of your teeth during an initial consultation. He and his dental team will answer any questions about teeth whitening you may have and recommend the best option for your needs, goals, and schedule. In cases of excessively deep and dark stains, a combination of whitening and porcelain veneers or other alternatives may be suggested. With that in mind, teeth whitening has proven to be a very effective treatment for patients who wish to lighten the shade of their teeth for whiter, brighter results.
Over-the-Counter vs. Professional Teeth Whitening
Unlike over-the-counter teeth whitening options, professional treatments are overseen by our experienced dental team to ensure the best possible outcome. The solutions utilized in our treatments contain advanced bleaching agents that are not available in teeth whitening kits you can obtain at the corner grocery store, allowing for a noticeable difference and effects that can lighten your teeth by several shades. Over-the-counter options such as gels, rinses, white strips, and toothpastes are typically surface-level treatments and do not have the ability to address discoloration that develops deep within the tooth enamel. Plus, options that you can find at the supermarket or in a drugstore may require continuous use for very long periods of time in order to achieve a relatively mild level of whitening. Professional teeth whitening solutions offer individuals a way to significantly lighten the shade of their teeth more effectively and in less time than it typically takes with over-the-counter products or so-called "natural" solutions such as coconut oil teeth whitening or charcoal teeth whitening, which have not been found by the American Dental Association to provide effective results. The charcoal method in particular may even create further dental problems since the abrasive material may strip away enamel during the process.
Professional teeth whitening also allows you to receive custom whitening trays rather than a one-size-fits-all appliance. This can make the whitening treatment more comfortable. Overall, our in-office and at-home whitening options can provide a more personalized treatment that is more apt to produce optimal results!
In-Office ZOOM!® Teeth Whitening
Our practice utilizes the popular ZOOM!® teeth whitening method for our in-office bleaching treatments. This procedure typically takes approximately 1 and ½ hours and offers immediate results. To begin the treatment, a whitening gel is applied on the surface of your teeth. Then, a special light will be held over the teeth to activate the gel. This process causes oxygen to filter through enamel, ultimately reducing the appearance of stains and discoloration.
It's important to remember that the teeth will still be susceptible to the effects of aging and the consumption of products that can result in discoloration over time. Good oral care and occasional "touch-up" whitening treatments can help maintain the effects of teeth whitening long into the future!
At-Home Teeth Whitening Treatment
If you would like the option of whitening your teeth on your own schedule, Dr. Pollack offers convenient at-home custom teeth whitening kits. Options include ZOOM!® DayWhite and ZOOM!® NiteWhite systems with custom trays. These treatments also provide a stronger alternative to standard over-the-counter teeth whitening solutions. Our at-home whitening trays are customized for the best possible fit. An advanced whitening gel is placed in your customized tray and should be worn for approximately 30 minutes each day during a 10 to 14 day period for the best results. After the initial treatment period, we recommend once- or twice-a-month follow-up treatments to maintain the effects.
How long do teeth whitening results last?
The results of teeth whitening are not permanent; however, with some simple precautions and occasional "touch-up" whitening treatments, the effects can be extended for very long periods of time. In-office whitening treatments may yield results of up to a full year or more in many cases. Limiting intake of foods and beverages such as coffee, wine, and others that contain staining agents can also help lengthen the initial results.
What is the cost of teeth whitening?
Teeth whitening treatments are custom-designed for each patient's individual needs; therefore, the overall price of the procedure varies. At times, the Phillips/ZOOM!® company offers special promotions. Once you have been examined and a preliminary treatment plan has been created, our Treatment Coordinator will go over the costs associated with teeth whitening.
Teeth Whitening and a Smile Design or Makeover
Teeth whitening can be part of a comprehensive Smile Design or Makeover here at Beautiful Smiles. A Smile Design or Makeover is a customized procedure created to address any number of aesthetic and/or functional concerns. It can combine a variety of procedures – including teeth whitening, porcelain veneers, and other restorative and cosmetic dentistry options – into one overall treatment plan that can help you completely renew and restore your smile. If you are considering a Smile Design or Makeover, Dr. Pollack can discuss all of your options with you and help you determine the best treatments for your beautiful smile.
We are happy to answer any questions you may have about teeth whitening or other procedures available here at our practice. If you would like more information, or if you would like to schedule an appointment with Dr. Pollack, please don't hesitate to contact us today.