Dental Implants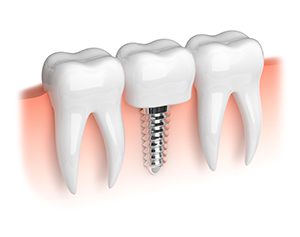 The dental implant is one of the most important and revolutionary breakthroughs in the field of restorative dentistry. Dental implant procedures allow you to replace a missing tooth (or teeth) with results that look, feel, and function like a natural tooth. They are designed to be a permanent missing teeth replacement that eliminates many of the drawbacks that are often associated with traditional dentures. Our highly skilled dentist, Dr. Harold A. Pollack, and his team at Beautiful Smiles can help you enhance both the function and appearance of your teeth with advanced dental implant restorations.
What are dental implants?
A dental implant is composed of a titanium post that is anchored to the jawbone in the area of the missing tooth. Once the implant is placed, it should fuse to the bone, mimicking the function of a natural tooth root. When the implant has secured itself to the jawbone, a custom-made dental crown is affixed to the top of the post. Since the implant and crown are created to provide the most comfortable and stable fit possible, along with a natural-looking appearance and feel, the artificial tooth should be virtually indistinguishable from your natural teeth.
What are the benefits of dental implants?
Dental implants offer a broad range of benefits for individuals who have a single missing tooth or multiple missing teeth. The potential advantages of this procedure include:
No movement or slippage along the gums (which is a common issue with ill-fitting dentures)
A permanent replacement option for missing teeth
Improved ability to chew, bite, and speak
No food restrictions
Maintenance is required in addition to regular brushing, flossing and dental hygiene visits
Results designed to look and feel natural
Am I a candidate for dental implants?
The best candidates for dental implants are typically individuals who have one or more missing teeth and have an adequate amount of jawbone density for the implant to securely fuse to the bone. Individuals may be in relatively good general health for treatment with dental implants. Patients with certain medical conditions and those with ongoing radiation or chemotherapy treatments are not typically candidates for this procedure. If you currently have periodontal disease, it may be treated before dental implantation so that it does not affect the healing process.
Dental implant procedures have advanced greatly over the years, and those who have been previously told that they were not candidates may now be eligible. The best way to determine your candidacy is to be evaluated by Dr. Pollack so that he can talk with you about your options. If you are not a candidate for full dental implants, options such as implant-supported dentures or dental bridges can often serve as effective alternatives.
How is the dental implant procedure performed?
Once Dr. Pollack has determined your candidacy for dental implants, he will develop a personalized treatment plan. Detailed x-rays will be used to identify the best possible placement for the implant in the area of the missing tooth, allowing for the most precise fit and results that feel natural. An oral surgeon or periodontist will then anchor the titanium implant to the jawbone, where it will begin a process called osseointegration (fusion with the bone). It takes a few months for the osseointegration process to complete; however, it is necessary to give the implant enough time to adequately fuse to the bone and become a stable, permanent part of your mouth. Once this has occurred, Dr. Pollack will delicately place the custom-designed dental crown on top of the post and secure the crown. The crown will be color-matched to surrounding teeth in order to yield a natural-looking blend. It will then be given one final polish, and the procedure is complete.
Does the dental implant treatment hurt?
In most cases, the dental implant treatment process involves very little discomfort due to a local anesthetic being applied to the area beforehand. We will do everything possible to ensure your treatment is as comfortable as possible.
How long do dental implants last?
One of the major benefits of dental implants is that they are designed to last permanently. For many individuals, the results have lasted for decades.
What is the cost of dental implants?
Since each treatment is customized to an individual's needs, the total cost of dental implants will vary based on a number of factors, including the number of implants that are being placed, the materials being utilized, the complexity of the procedure, laboratory costs, and the skill/experience level of the dentist and the oral surgeon and periodontist. Once Dr. Pollack has performed an evaluation and created a treatment plan, a member of our dental team will produce an estimate of the total cost of the procedure and go over it with you. Our practice offers a variety of payment options and we work with CareCredit®, a company that offers convenient and affordable dental treatment financing plans for qualified applicants. We will be happy to assist you with finding the method of payment that works best for your budget.
Dental implants have helped individuals all over the world replace missing teeth with results that are beyond comparison. If you are considering dental implants, we invite you to contact us today with any questions you may have, or to schedule a consultation with Dr. Pollack.