Periodontal Care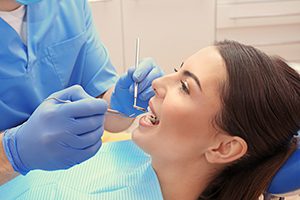 Here at Beautiful Smiles, our experienced New Jersey dentist, Dr. Harold A. Pollack, and his skilled dental hygienists, Kim and Debbie, can help you fight periodontal (gum) disease and maintain healthy gums. Most individuals will be affected by gum disease at some point in their lives, even those who have good oral hygiene routines and take excellent care of their teeth and gums. Routine periodontal care is essential for preventing the effects that gum disease can have on both your oral health and your overall health. Evaluation of your gums is a standard part of regular dental check-ups at our practice, and we offer advanced treatment to address a variety of concerns.
What are the causes and symptoms of gum disease?
It is very common for bacteria and plaque to gradually collect in certain places along the teeth and gums. When left untreated, gingivitis (the earliest stage of gum disease) can develop. Gingivitis can then lead to periodontitis, which can ultimately pose a significant threat to the health of your teeth and gums, in addition to your general health.
Some of the causes of gum disease can be attributed to:
Poor dental hygiene and lack of professional dental care
Teeth grinding and clenching
Tobacco use
Nutritional deficiencies
Certain medications and/or medical treatments
Illness or medical conditions such as diabetes
Hormonal changes
Symptoms of gum disease can include:
Swollen, inflamed, red, and/or bleeding gums
Halitosis (bad breath)
Receding gums
Enlarged pockets between the gums and teeth
Teeth that feel loose
Changes in bite
Tooth loss
A discharge of pus between the teeth and/or along the gumline
Did you know that untreated gum disease has been linked to heart disease and other serious overall health problems, including heart disease, stroke, cancer, diabetes, and other conditions. Research has also shown a correlation between gum disease and the effects of Alzheimer's disease. The consequences that gum disease can have on one's oral and general health can be severe, which makes it necessary to undergo regular checkups for periodontal disease and to have treatment as early as possible.
How can gum disease be treated?
At Beautiful Smiles, we offer treatments designed to help slow the progression of gum disease and prevent it from getting worse. Regular preventive care options such as dental cleanings can remove hardened plaque (calculus) from the teeth so that there is a strong seal between the teeth and gums. For patients who have gingivitis or more advanced levels of gum disease, a procedure known as a deep cleaning (scaling and root planing) can often be very beneficial. This non-surgical treatment involves removal of plaque and calculus deep within the gums. It is a very common procedure that can be performed in a single appointment here at the office.
Once you have been examined, Dr. Pollack and his dental hygienists, Kim and Debbie, will determine whether you are suffering from gum disease and, if so, the level of severity you are experiencing. We can then talk with you about your treatment options and help you decide on the best course of action for restoring the health of your gums.
Frequently Asked Questions about Gum Disease and
Periodontal Care
Below, you will find answers to some of the most frequently asked questions we receive about gum disease and periodontal treatments. If you would like more information, please don't hesitate to contact our team today.
When should I be evaluated for gum disease?
Ideally, you should be evaluated for signs of gum disease at least twice per year, or as soon as you notice symptoms. Our dental team examines the gums during routine oral check-ups; if a problem is identified, we will talk with you about the best treatment options for your needs. The earlier you receive treatment for gum disease, the better chance you will have of keeping the condition from causing serious harm.
Can gum disease be prevented?
Maintaining a strict brushing and flossing routine, along with regular dental check-ups and professional teeth cleanings, is crucial to reducing the risk of plaque buildup and bacterial invasion of the gums. Unfortunately, even by taking these necessary steps, it is still possible for gum disease to develop; however, these prevention measures can go a long way toward staving off gum disease for as long as possible. If it ultimately develops, our practice offers treatment options that can address the condition and restore gum health.
Will I need to see a periodontist?
A periodontist is a specialist in health concerns relating to the gums. For early stages of gum disease, treatments available from Dr. Pollack and his dental hygienists, Kim and Debbie, are often effective for improving the condition. Patients who have more severe levels of gum disease may require other types of treatment to successfully address the problem. In these cases, our practice can refer individuals to a qualified periodontist for care. Once you come in for your oral check-up, Dr. Pollack will thoroughly examine your gums and evaluate any symptoms you may be experiencing to determine the level of gum disease present. In many cases, gum disease can be treated here at our office without the need to refer out to another practice.
How much does gum disease treatment cost?
The cost of gum disease will ultimately depend on the specific treatment that will be performed and the extent of treatment necessary to properly address your concerns. Professional teeth cleanings and deep cleanings (scaling and root planing) are often covered under dental insurance plans. Our practice also accepts a range of payment methods, and we partner with CareCredit®, a dental financing company that offers qualified applicants an array of affordable payment plans to make procedures as financially convenient as possible. Once you have been evaluated and a preliminary treatment plan has been created, we can talk with you about your options and answer any questions you may have about the costs of the procedure.