Family Dentistry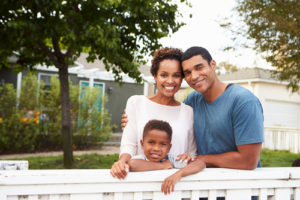 From two and three year-olds all the way to 100, we offer helpful and effective treatment options to patients of virtually all ages here at Beautiful Smiles. Our dentist and his friendly dental team provide a wide range of preventive, restorative, and cosmetic dental care options right here at our practice to make treatment for you and your family a more convenient experience. Safety, comfort, efficiency, and compassion are some of our top priorities, and our team strives to give you and your entire family the absolute best in care.
What is Family Dentistry?
Family dentistry is often the term ascribed to a field of dental care that focuses on treatment for patients of all ages. Most family dentists offer a comprehensive array of routine and preventive dental care options, as well as restorative dentistry procedures and other common dental and periodontal treatments. The term "family dentistry" and "general dentistry" are often comparable, in that a family dentist typically performs the same types of services that a general dentist performs; however, a family dentist typically has a more emphasized focus on treatment and dental education for the entire family.
Why Choose a Family Dentist?
A family dentist can be ideal for individuals with family members of varying ages who would like the convenience of having an expansive selection of dental treatment available at a single practice. Family dentists such as Dr. Harold A. Pollack strive to provide all of your dental needs right here at our office, with options for adults as well as a tailored pediatric dental care approach for children and teens. Our practice believes in providing exceptional patient education so that you and your loved ones, both young and elderly, are able to maintain good oral hygiene routines and dental habits that can keep the teeth and gums as healthy as possible between visits. Another hallmark of a good family dentist, and one that Dr. Pollack is deeply committed to, is providing patients with an overall positive experience here at our office. Friendly and gentle care for all of our patients is a top priority, and our dedication to providing the best possible experience for children in particular has resulted in Dr. Pollack's recognition as a Favorite Kids' Doc in New Jersey Family Magazine for nine consecutive years!
What Family Dental Care Treatments Does Dr. Pollack Provide?
Dr. Pollack and his team at Beautiful Smiles offer a full range of family dental care options, including:
Oral Exams and Dental Cleanings
Digital X-Rays
Oral Cancer Screening
Sealants
Nightguards and Sports Mouthguards
Tooth-Colored Fillings
Gum Disease Treatment
These are just a few of the options available at our practice. You can learn more about our wide range of services by visiting our page devoted to general dentistry. For patients who need other types of dental care, we offer a comprehensive selection of cosmetic dentistry and restorative dentistry options, as well.
How to Select the Right Family Dentist
As you research your options when it comes to selecting the best family dentist for your needs, there are some things to consider that can help you narrow down your choices. It's important to keep in mind that the dentist you select should not only be experienced and extensively trained, but also able to tailor his or her treatment and approach to the older and younger members of your family. A family dentist's compassion and demeanor can be just as vital as their skills with dental care.
Here are a few tips on finding the right dentist for you and your family:
Be sure that the dentist is properly licensed and qualified to perform a range of procedures, from routine preventive care to restorative options or other specific treatments for which you may be interested.
If you are planning on taking your children to this dentist, inquire as to whether the office is child-friendly.
Find out how much experience the dentist and the dental team has with treating children.
Try to gain an idea up-front as to which types of procedures can be completely performed at the office and which may need to be referred out.
View before-and-after photos and read reviews of the dentist.
Meet with the dentist for a consultation and determine your level of comfort and confidence with his or her communication style, abilities, and demeanor.
A dental practice's website often has detailed biographical information and descriptions of available treatments. This can be a helpful resource, providing you with an initial overview of the practice that helps you decide whether you would like to schedule a consultation with the dentist and meet them in-person, which can ultimately help you finalize your selection.
Dr. Harold A. Pollack has devoted his entire career to providing exemplary family dental care in a compassionate and comfortable setting. If you would like to learn more about our dentist, or if you would like to schedule your initial consultation, please don't hesitate to contact Beautiful Smiles today.