Millburn, New Jersey Dentist Harold A. Pollack, DDS Celebrates More Than 35 Years of Creating Beautiful Smiles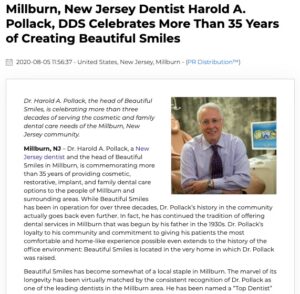 Dr. Harold A. Pollack, the head of Beautiful Smiles, is celebrating more than three decades of serving the cosmetic and family dental care needs of the Millburn, New Jersey community.
Millburn, NJ – Dr. Harold A. Pollack, a New Jersey dentist and the head of Beautiful Smiles in Millburn, is commemorating more than 35 years of providing cosmetic, restorative, implant, and family dental care options to the people of Millburn and surrounding areas. While Beautiful Smiles has been in operation for over three decades, Dr. Pollack's history in the community actually goes back even further. In fact, he has continued the tradition of offering dental services in Millburn that was begun by his father in the 1930s. Dr. Pollack's loyalty to his community and commitment to giving his patients the most comfortable and home-like experience possible even extends to the history of the office environment: Beautiful Smiles is located in the very home in which Dr. Pollack was raised.
Beautiful Smiles has become somewhat of a local staple in Millburn. The marvel of its longevity has been virtually matched by the consistent recognition of Dr. Pollack as one of the leading dentists in the Millburn area. He has been named a "Top Dentist" in New Jersey Monthly multiple times, a "Top Dentist" in Millburn Short Hills magazine, and he has been recognized as a "Favorite Kids' Doc" in New Jersey Family magazine for eight consecutive years. Dr. Pollack says he believes part of the reason Beautiful Smiles has remained resilient in the community is because of his dental team's strong dedication to providing patients with high-quality care while simultaneously treating them the way they would treat guests in their own home.
According to Dr. Pollack, Beautiful Smiles' extensive selection of treatment options may be another explanation for the practice's decades of success. From a comprehensive slate of family dentistry options to cosmetic and restorative procedures like porcelain veneers, ZOOM® teeth whitening, and full smile makeovers, Dr. Pollack says Beautiful Smiles offers patients the convenience of having many of the most common dental services available at a single location. Additionally, Dr. Pollack notes that maintaining a dental practice's community presence for such a long time requires the dentist to keep up with the times. He says dentists need to adapt to new technologies and treatments that help further the field of dentistry to make the diagnosis and treatment process more accurate, effective, convenient, and comfortable for patients. Dr. Pollack says this can be accomplished via continuing dental education. Over the course of his career, Dr. Pollack has completed more than 5,000 hours of additional continuing education, which has enabled him to provide new and advanced dental technologies at his practice.
Dr. Pollack says the fact that Beautiful Smiles is celebrating more than 35 years of serving the Millburn community is ultimately a testament to the dedication of his practice and his patients alike. With a mission of providing every individual with the best possible experience along with treatment options that can successfully renew the health and appearance of their smile, Dr. Pollack says he looks forward to continuing the exceptional dental care tradition started by his father so long ago.
About Harold A. Pollack, DDS
Dr. Harold A. Pollack is a member of the American Academy of Cosmetic Dentistry, a Fellow of the Academy of General Dentistry, a member of the American Dental Association, the New Jersey Dental Association, Spear Education, and other renowned dental organizations. Selected as one of "The Best Dentists in America," Dr. Pollack offers a comprehensive array of dental care services for patients of virtually all ages, including routine and preventative treatments, cosmetic dental care, and restorative and implant options for missing and damaged teeth. Dr. Pollack is available for interview upon request.
To learn more about Dr. Harold A. Pollack, please visit beautifulsmilesnj.com or facebook.com/drharoldpollack.
Contact:
Beautiful Smiles by Harold A. Pollack, DDS, PA
280 Millburn Avenue
Millburn, New Jersey 07041
(973) 467-0720
Rosemont Media
(858) 200-0044
www.rosemontmedia.com