Smile Out Loud!
Introducing the Beautiful Smiles by Dr. Harold Pollack Smile Out Loud Program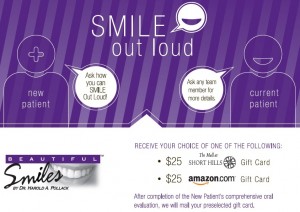 We want to thank our patients for their loyalty and for referring friends, family, and colleagues to Healthy Beautiful Smiles by Dr. Harold Pollack.  To show you our gratitude, take advantage of our newest program built to treat you when you Smile Out Loud.
Smile Out Loud is simple and easy. Starting today (4/18/2011) anytime you refer someone to our practice, you will receive a $25 gift card of your choosing to either Amazon.com or The Mall at Short Hills.  In addition, the new patient you refer will also enjoy a gift card of their choice to either location.
Start today by coming to our office to pick up your Smile Out Loud referral cards.  Or, for your convenience, contact us and we will be happy to mail you a couple.  Next, ask your friend to bring the referral card to his or her initial appointment.  Be sure that both of you check the box for the gift card you want.  After your referred friend's initial comprehensive oral evaluation is completed, a gift card will be mailed to each of you.  All that's left to do after that is decide what you will purchase with your free gift card!
Thank you again for your loyalty and continued friendship.  As always, we look forward to seeing you at your next appointment as well as meeting your friends soon!