Cosmetic Dentistry Common Questions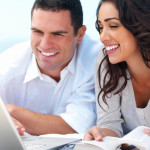 There are a lot of misconceptions surrounding what dental treatments are available, what they do, how effective they are, and who is qualified to provide these treatments. This is especially true of cosmetic dentistry, so today we bring you this brief primer on the most common questions people have – and straightforward, factual answers.
Of course, if you have any questions or concerns at all, please give us a call. We provide many cosmetic dentistry services including porcelain veneers and teeth whitening, and would be more than happy to schedule a consultation at our Millburn New Jersey dental practice.