What is the Difference Between Over-the-Counter Whiteners and Professional Whitening Treatments?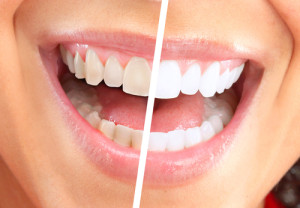 0″ height="208″ class="alignright size-medium wp-image-2026″ />
One of the keys to understanding the effectiveness of any teeth whitening system is distinguishing between the terms "whitening" and "bleaching." While many over-the-counter toothpastes, rinses, and kits label themselves as "whitening" products, this label can be applied to virtually any product that cleans food particles away from the teeth—a task that many toothpastes or rinses can already achieve. However, according to the guidelines of the U.S. Food and Drug Administration (FDA), only products that contain the active ingredient of hydrogen peroxide or carbamide peroxide can apply the "bleaching" label. These are the ingredients responsible for lightening the shade of your natural teeth as well as breaking up stains resistant to brushing and rinsing.
At Beautiful Smiles, both our in-office Zoom!® Whitening system as well as our professional take-home whitening custom trays and gel are bleaching treatments that can effectively brighten your teeth up to several shades lighter. The strength of our professional whitening agents can be significantly more powerful than over-the-counter options, allowing you to achieve a higher degree of brightness. Another advantage to our professional whitening treatments at Beautiful Smiles is the speed at which results can appear. The Zoom!® Whitening procedure is usually performed during a single office visit for nearly instant results (ideal for an upcoming wedding or other special event), while our take-home custom trays and gel allow you the convenience to whiten and touch up your smile whenever you please. Plus, unlike the one-size-fits-all approach taken by teeth whitening brands at the local store, our at-home teeth whitening options are customized for the best possible fit along your teeth. Finally, as a patient of Beautiful Smiles, your treatment will be overseen by an experienced dental team that can help ensure you achieve your desired results.