New Jersey Family Dentistry Practice Says Summer is Smile Season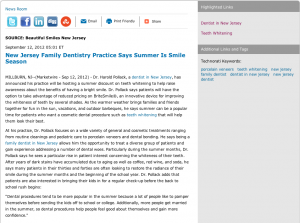 Millburn, NJ — Dr. Harold Pollack, a dentist in New Jersey, has announced his practice will be hosting a summer discount on teeth whitening to help raise awareness about the benefits of having a bright smile. Dr. Pollack says patients will have the option to take advantage of reduced pricing on BriteSmile®, an innovative device for improving the whiteness of teeth by several shades. As the warmer weather brings families and friends together for fun in the sun, vacations, and outdoor barbeques, he says summer can be a popular time for patients who want a cosmetic dental procedure such as teeth whitening that will help them look their best.
At his practice, Dr. Pollack focuses on a wide variety of general and cosmetic treatments ranging from routine cleanings and pediatric care to porcelain veneers and dental bonding. He says being a family dentist in New Jersey allows him the opportunity to treat a diverse group of patients and gain experience addressing a number of dental woes. Particularly during the summer months, Dr. Pollack says he sees a particular rise in patient interest concerning the whiteness of their teeth. After years of dark stains have accumulated due to aging as well as coffee, red wine, and soda, he says many patients in their thirties and forties are often looking to restore the radiance of their smile during the summer months and the beginning of the school year. Dr. Pollack adds that patients are also interested in bringing their kids in for a regular check-up before the back to school rush begins:
"Dental procedures tend to be more popular in the summer because a lot of people like to pamper themselves before sending the kids off to school or college. Additionally, more people get married in the summer, so dental procedures help people feel good about themselves and gain more confidence."
Because of the popularity of summer dental procedures, Dr. Pollack says his practice will be offering reduced pricing on BriteSmile® teeth whitening procedures. Until September 21, 2012, patients will be able to receive the bleaching treatment for $399, usually a $600 value. Gift certificates are also available. Dr. Pollack says he is excited to help patients take advantage of the unique benefits of modern cosmetic dentistry. Through the limited time offer, he says he hopes to make teeth whitening an affordable option for everyone.
Whether patients are looking for an aesthetic treatment like porcelain veneers or a routine checkup, Dr. Pollack says he looks forward to the back-to-school rush each year because it provides him an opportunity to help them gain confidence in their appearance. However, as patients are researching potential dental practices and family dentists, he says he encourages them to consult with an experienced and qualified dentist before considering any treatment. Dr. Pollack says through partnership with a dedicated practice, patients can achieve a brighter, healthier smile for the summer as well as the start of the school year.
About Harold A. Pollack, DDS
A graduate of the Temple University School of Dentistry, Dr. Harold Pollack is a member of the American Academy of Cosmetic Dentistry, the American Dental Association, the New Jersey Dental Association, and the Pankey Institute Alumni Association, as well as a Fellow of the Academy of General Dentistry. He has dedicated over 4,000 hours to his continued education through various workshops, lectures, and courses in advanced dental techniques. Dr. Pollack has also been selected as one of the "Best Dentists in America" and a "Top Dentist" by NJ Monthly.
Located at 280 Millburn Avenue in Millburn, NJ, Beautiful Smiles by Dr. Harold Pollack can be reached at (973) 947-4331. Dr. Pollack and his team can also be contacted online via the website beautifulsmilesnj.com or facebook.com/drharoldpollack.