New Jersey Cosmetic Dentist Utilizes Advanced Techniques to Improve Mother's Smile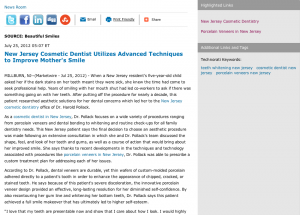 Millburn, NJ — When a New Jersey resident's five year old child asked her if the dark stains on her teeth meant they were sick, she knew the time had come to seek professional help. Years of smiling with her mouth shut had led co-workers to ask if there was something going on with her teeth. After putting off the procedure for nearly a decade, this patient researched aesthetic solutions for her dental concerns which led her to the New Jersey cosmetic dentistry office of Dr. Harold Pollack.
As a cosmetic dentist in New Jersey, Dr. Pollack focuses on a wide variety of procedures ranging from porcelain veneers and dental bonding to whitening and routine check-ups for all family dentistry needs. This New Jersey patient says the final decision to choose an aesthetic procedure was made following an extensive consultation in which she and Dr. Pollack's team discussed the shape, feel, and look of her teeth and gums, as well as a course of action that would bring about her improved smile. She says thanks to recent developments in the techniques and technology associated with procedures like porcelain veneers in New Jersey, Dr. Pollack was able to prescribe a custom treatment plan for addressing each of her issues.
According to Dr. Pollack, dental veneers are durable, yet thin wafers of custom-molded porcelain adhered directly to a patient's tooth in order to enhance the appearance of chipped, cracked, or stained teeth. He says because of this patient's severe discoloration, the innovative porcelain veneer design provided an effective, long-lasting resolution for her diminished self-confidence. By also recontouring her gum line and whitening her bottom teeth, Dr. Pollack says this patient achieved a full smile makeover that has ultimately led to higher self-esteem.
"I love that my teeth are presentable now and show that I care about how I look. I would highly recommend making this a priority if this is something you've been putting off as it does indeed make a great difference in how you feel about yourself. I find myself smiling much more, and am much less likely to duck out of photos," according to this New Jersey cosmetic dentistry patient.
Dr. Pollack says through procedures such as porcelain veneers and teeth whitening in New Jersey, patients can attain significant improvements in the way they view their physical appearance. He says as further developments in modern cosmetic dentistry continue to emerge, patients will be able to receive even higher levels of care and results. However, as with any medical or dental procedure, he says patients should be sure to consult with an experienced and properly-trained dentist with an expertise in aesthetic treatments in order to ensure a safe and effective solution is reached: "Teeth whitening and porcelain veneers and other cosmetic dentistry procedures definitely change our self-esteem of patients. I know this from patients telling us in-office, and how much more positive they are after their procedure is complete."
About Harold A. Pollack, DDS
Dr. Harold Pollack earned his Doctor of Dental Surgery Degree from the Temple University School of Dentistry and has been serving the New Jersey community for over 30 years. He has devoted more than 4,000 hours to continuing his professional education and is a member of the American Academy of Cosmetic Dentistry, the Academy of Computerized Dentistry of North America, the American Dental Association, the New Jersey Dental Association, and several other professional organizations. Dr. Pollack is a Fellow of the Academy of General Dentistry and has been selected as one of the Best Dentists in America, a NJ Monthly Top Dentist, and NJ Family Favorite Kids' Docs.
Located 280 Millburn Avenue in Millburn, NJ, Beautiful Smiles by Dr. Pollack can be reached at (973) 947-4331. It can also be contacted online via the website beautifulsmilesnj.com or the Beautiful Smiles Facebook page.