Jennifer's Story
10 Porcelain Veneers
Tetracycline Staining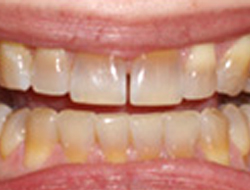 Before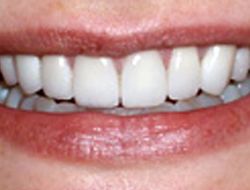 After
I had severe staining on my teeth from antibiotic medication from childhood and never enjoyed having a beautiful white smile. I always dreamed of having cosmetic work done, but was very hesitant and didn't know where to turn.
I happened to catch Dr. Pollack on TV, which interested me to contact his office. From the first phone call I made speaking with Linda, who spent an impressive amount of time explaining and answering all the initial questions I had, to the informative meetings with Dr. Pollack preparing me for my cosmetic dental work, I knew I was in the right place. I felt very comforted and eased going through the process, and Dr. Pollack always took the time to answer all my questions thoroughly.
Dr. Pollack is a compassionate dentist with the knowledge and skill to provide his patients exceptional cosmetic dentistry. I truly had a wonderful experience with Dr. Pollack and his supportive team. I highly recommend Dr. Pollack for his personalized, attentive patient care.
Thanks again and again for my new smile!
Sincerely,
Jennifer N.