Irwin's Story
Full Mouth Reconstruction with Crowns and Veneers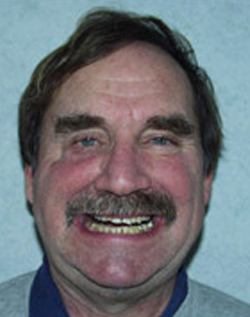 Before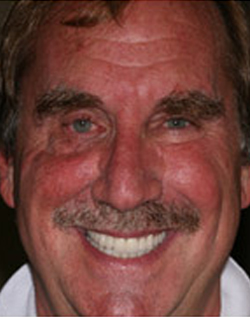 After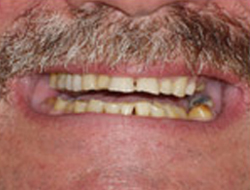 Before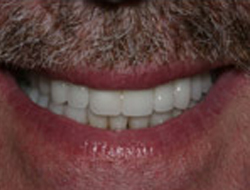 After
In 1984 I started Stonehenge LTD, a tie manufacturing company in New York City, which helped to create some of the most popular ties in America.
The Jerry Garcia ties, the Cocktail Collection in support of Mothers Against Drunk Driving, the Jimmy V Collection in support of cancer research, Ties for Tibet, Christopher Reeve, Frank Sinatra, Miles Davis and Gilda Radner were among other tie programs which helped raise millions towards great cause related organizations. I traveled around the world and was a guest speaker many times to help promote these great causes.
I do have a confession. For many years I had a full mustache so that I could hide my teeth which caused me not to smile often at these engagements. Dr. Pollack finally convinced me to restore my mouth in its entirety to maximize function and to enhance my smile. I took Dr. Pollack's advice and had crowns, onlays, a bridge and veneers placed. Since the final completion, there has never been a day or two that goes by that someone compliments me or my teeth, smile or overall positive confidence. I now trim my mustache tight and smile all the time when showing my teeth. I love my new look- even with my mouth open.
After moving to Millburn in 1984, I found myself traveling back to Baltimore so that I could continue to have my yearly checkup with my doctors that I'd visited for many years. Several new friends convinced me that I should find new doctors in the area. I was highly recommended to Dr. Pollack's office. Now almost 20 years later, my entire family uses Dr. Pollack for their dental needs. We all know how easy it is to recommend family doctors, lawyers, dentists or any professional person. However, the referral to Dr. Pollack's office far exceeded my expectations. I must honestly say that I've never met any doctor that was continuing to educate his team with every aspect of new technology year after year. In fact, Dr. Pollack's loyal team has been with him for many years and is certainly like family to all. Most important, their professionalism, kindness, caring and their gentle touch is probably most obvious to everyone.
I never felt so confident and as comfortable as with this new me. So, if anyone needs a spark of confidence, a new look that can show more of the real you, and a new way to feel good about yourself- I highly recommend having Dr. Pollack and his team meet with you to explain how you too can make a difference in the way you feel and look at life.
Irwin S.
Millburn, New Jersey