Oral Cancer Awareness Month: Be Proactive and Get Regular Screenings!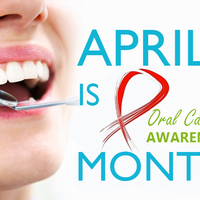 April is Oral Cancer Awareness Month, and Beautiful Smiles is on the front lines in the battle against this dangerous disease. Dental professionals like Dr. Harold A. Pollack and the team here at our practice have a crucial role to play in the fight against oral cancer. A standard part of a routine dental check-up at Beautiful Smiles is an oral cancer screening, which can detect potential cancerous growths in early stages. Early detection of oral cancer has been shown to significantly increase the chance of survival, and we are committed to utilizing advanced technology that can help identify abnormalities in the oral tissues at the earliest time possible.
The Oral Cancer Foundation estimates that nearly 50,000 people in America will be diagnosed with oral cancer this year. Since so many individuals are not diagnosed until late in the development of oral cancer, the death rate is particularly high, and many of those who survive after a late-stage diagnosis may suffer devastating effects on their livelihood. This is why it is so important to have regular oral cancer screenings. Our practice utilizes the advanced VELscope® oral cancer screening system to detect signs of oral abnormalities that may not be noticeable to the naked eye. VELscope® oral cancer screening is a painless procedure that can be part of your regular dental exam.
Basic oral cancer screenings at our practice are performed during each dental hygiene visit, and the state-of-the-art VELscope® oral cancer screening is performed every 18 months. You should also check your oral tissues regularly during your at-home oral hygiene routines and schedule a dental appointment if you notice anything unusual. Remember: being proactive and having routine oral cancer screenings can be a powerful weapon against this life-threatening condition!
Please contact Beautiful Smiles for more information on oral cancer screenings, or to schedule an appointment.