Why Should I Switch to Implant Supported Dentures?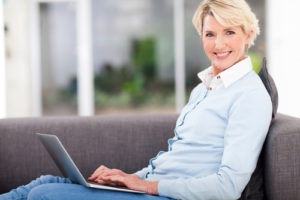 Though some patients who choose implant supported dentures are receiving dentures for the first time, many of our patients at Beautiful Smiles are choosing implant supported dentures as an upgrade from traditional dentures. By using a number of strategically placed dental implants, our dentist can secure a custom-made denture to the implants for a precise and comfortable fit. In addition to superior functionality, implant supported dentures can also provide a more natural-looking alternative for patients seeking to improve the beauty of their smile.
Traditional dentures are associated with many inconveniences, including: slippage along the gum line; irritation or discomfort; and messy adhesives that may not always be successful at keeping the dentures in place. Since implant supported dentures are fixed into place by titanium posts, they can offer unparalleled stability without the need for adhesives. Additionally, this advanced restorative dentistry technique has been shown to reduce bone loss compared to traditional dentures or bridges. However, perhaps the most important benefit our patients have enjoyed with implant supported dentures is an improved ability to speak and chew with ease, comfort, and confidence.
To discover if you are a good candidate for implant supported dentures, please contact our office today to schedule a consultation.