Millburn, New Jersey Dentist Offers Tips on Choosing a Family Dentistry Practice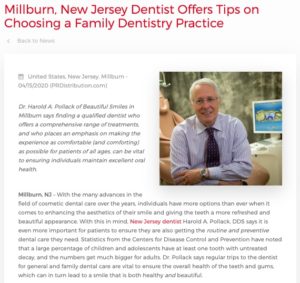 Dr. Harold A. Pollack of Beautiful Smiles in Millburn says finding a qualified dentist who offers a comprehensive range of treatments, and who places an emphasis on making the experience as comfortable (and comforting) as possible for patients of all ages, can be vital to ensuring individuals maintain excellent oral health.
Millburn, NJ – With the many advances in the field of cosmetic dental care over the years, individuals have more options than ever when it comes to enhancing the aesthetics of their smile and giving the teeth a more refreshed and beautiful appearance. With this in mind, New Jersey dentist Harold A. Pollack, DDS says it is even more important for patients to ensure they are also getting the routine and preventive dental care they need. Statistics from the Centers for Disease Control and Prevention have noted that a large percentage of children and adolescents have at least one tooth with untreated decay, and the numbers get much bigger for adults. Dr. Pollack says regular trips to the dentist for general and family dental care are vital to ensure the overall health of the teeth and gums, which can in turn lead to a smile that is both healthy and beautiful.
Dr. Pollack says choosing the dentist who will be providing basic family dentistry is one of the most important steps to ensuring that patients obtain (and maintain) the care they need. He explains that dentists being considered to treat one's self and other family members should be extensively researched to make sure they are licensed and qualified to perform a comprehensive array of procedures, from routine treatments such as teeth cleanings and fillings to restorative dental care options like dental crowns and missing teeth replacement. Dr. Pollack notes that a dentist who offers a variety of options under one roof can make the treatment process much more convenient, particularly for families. In addition, he says individuals looking for a qualified family dentist should ask whether the practice is child-friendly and how much experience the dental team has with pediatric dentistry. Dr. Pollack notes that reading reviews of the prospective dentist can also help patients get an idea of the kind of experience they might expect at the practice, and meeting the dentist in-person can help people determine how confident and comfortable they are with the doctor's demeanor and approach to care.
Since cavities and many other dental problems can arise from inadequate at-home oral health regimens, Dr. Pollack says it's also important to make sure a prospective family dentist provides both children and adults with the education they need to establish good oral health habits that stay with them throughout their lives, which can help prevent serious dental problems from developing in the first place. Ultimately, Dr. Pollack says, a good family dental care practice is one where the entire dental team is focused on providing a positive overall experience and educational tools for patients of all ages, in addition to offering numerous kinds of treatment that can be helpful for a range of needs.
About Harold A. Pollack, DDS
Dr. Harold A. Pollack is the head of Beautiful Smiles, a dental practice in Millburn, New Jersey that offers a full range of family dental care options in addition to cosmetic and restorative dentistry treatments. Dr. Pollack is a Fellow of the Academy of General Dentistry, a Charter Member of the New Jersey Chapter of the American Academy of Cosmetic Dentistry, and a member of the New Jersey Dental Association, the American Dental Association, and other dental organizations. Dr. Pollack has been recognized several times as a "Top Dentist" in New Jersey Monthly, and is an eight-time recipient of the "Favorite Kids' Doc" honor in New Jersey Family Magazine. He has pursued more than 5,000 hours of continuing dental education to maintain his commitment to offering patients the latest dental treatments and techniques. Dr. Pollack is available for interview upon request.
To learn more about Dr. Harold A. Pollack, please visit beautifulsmilesnj.com or facebook.com/drharoldpollack.
Contact:
Beautiful Smiles by Harold A. Pollack, DDS, PA
280 Millburn Avenue
Millburn, New Jersey 07041
(973) 467-0720
Rosemont Media
(858) 200-0044
www.rosemontmedia.com