What Do I Need to Know about My Dental Implant Choices?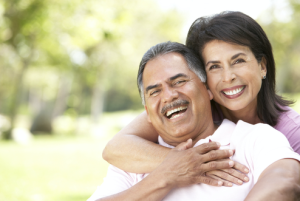 With the many advances made in the field of implant dentistry over the years, there are now a wide variety of options to help individuals replace missing teeth with results that both look and feel natural. For many patients, a full dental implant or set of implants is the best way to achieve their goals. For others, an implant-supported denture may be the better option. If you are considering dental implants to replace one or more missing teeth, here are a few things to know about these advanced treatments:
A full dental implant is a titanium post that is anchored to the jawbone and affixed with a permanent dental crown. Once the post fuses with the jawbone in the area of the missing tooth, it is designed to function like a natural tooth root. The implant is meticulously placed and the crown is customized so that both the fit and appearance of the artificial tooth looks and acts like a natural tooth.
An implant-supported denture or dental bridges can be used to stabilize those types of missing teeth replacement techniques. The implant can give the bridge or denture a significant new level of support, reducing gum irritation and the potential for movement and slippage along the gumline. In some cases, this option may serve as an effective alternative for patients who are not candidates for full dental implants.
Dental implants can serve as a much better alternative to dentures. They require no extra maintenance, no messy putties or adhesives, and they will not slip along the gumline. These treatments can provide results that feel so natural, you may not be able to distinguish the implants from your original teeth.
Patients must have an adequate amount of bone density in the area of the missing tooth in order to accommodate a dental implant. Candidates for dental implants must also be free of certain health conditions to receive the treatment. Our experienced dentist, Dr. Harold J. Pollack, will perform a comprehensive oral evaluation and determine whether dental implants, implant-anchored dentures, or an alternative treatment is best-suited to your needs.
If you would like more information on dental implants, or if you would like to schedule a consultation here at our practice, please contact Beautiful Smiles today.