Can Porcelain Veneers Stain or Be Whitened?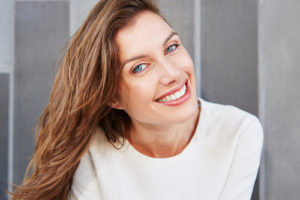 Porcelain veneers are some of the most versatile cosmetic dental care options available. With the ability to effectively hide chips, gaps, deep stains, and other perceived imperfections, porcelain veneers offer an extensive range of benefits. One of their more prominent advantages is that they cannot stain; the strong and lasting material that composes porcelain veneers is resistant to discoloration. On the flip side, this makes it impossible to whiten porcelain veneers, as well.
When porcelain veneers are placed, they are color-matched to surrounding teeth so they blend in for a more natural appearance. This is one reason why a professional teeth whitening procedure before you have porcelain veneers placed is often recommended so that, once the veneer is tinted for a seamless blend, it is surrounded by whiter natural teeth. This makes it match to teeth that already look healthier and more refreshed.
If you have already had your veneers for a while and you didn't whiten your teeth before the procedure, you can still have a teeth whitening procedure; however, it will likely be more difficult obtain a good match between the color of the teeth and the veneers. In these cases, it may be necessary to replace the veneers with new ones to get the best blend.
Depending on your individual goals and the present condition of your teeth, our dental team at Beautiful Smiles may recommend a teeth whitening treatment—or at least a professional dental cleaning—before placing porcelain veneers so that you can enjoy the best possible aesthetic results for as long as possible. If you have questions about our porcelain veneer or teeth whitening procedures, or if you would like to meet with Dr. Harold A. Pollack to talk more about these options, please contact us today!