Deana's Story
Smile Makeover with 4 Upper Porcelain Veneers and Zoom Teeth Whitening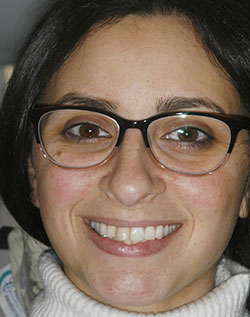 Before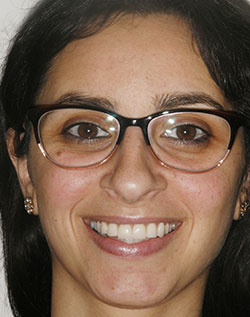 After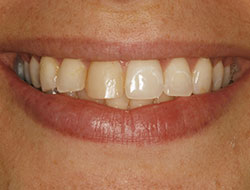 Before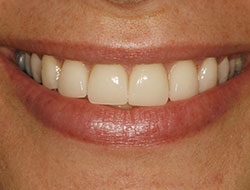 After
To see Deana's Journey, please see the video below:
"When I went to Dr. Pollack's office in March (2019) I was feeling totally defeated. For years my teeth have been bothering me and making me feel insecure and this was now my 4th dentist opinion. One dentist said that if I wanted veneers I would have to first get braces on the bottom to fix my teeth and then after that get veneers on top and bottom. Another dentist said "oh yea I could see how you don't have an attractive smile." Then suggested that I get 10 veneers on top and 10 on the bottom. That was unrealistic as I was on a budget and I have received plenty of compliments on my teeth, I just wasn't fully happy with the shape and my off shaded color.
After the initial visit with Dr. Pollack and Linda I knew this time was different. They suggested that I do the whitening then 4 veneers on top and it would balance everything out. It was in my budget so I agreed and then my marvelous veneers journey began.
The veneers have honestly changed my life. They are so much better than I could have ever imagined. The shaping is perfect, the color is so natural it blends in with the rest of my teeth. I smile more now and without hesitation. I wasn't expecting the next thing to happen either, which was caring for my skin and eating healthier foods. It boosted my confidence and gave me more of a reason to take better care of myself overall. A level of which I have never seen nor done before. To me that is priceless.
Lastly and most importantly, Dr. Pollack, Linda, Maria, Kim and everyone in the office made me feel so at home. I couldn't imagine have had this experience with a nicer, more professional and caring group of people. Linda was so detailed in explaining the process and progress of everything from design, shape, color, the temporaries, etc.. Dr. Pollack was so kind, gentle, knowledgeable and has hands of magic! Maria is so sweet and also knowledgable in what she is doing. Thanks be to God for this office and for what I can now confidently call my Beautiful Smile.
thanks!" – Deana