Nick's Story
Full Mouth Reconstruction with Porcelain Veneers and Implant Crowns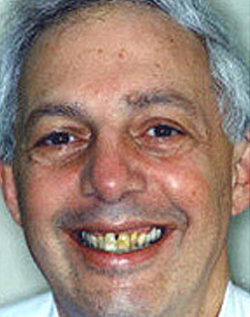 Before
After
Before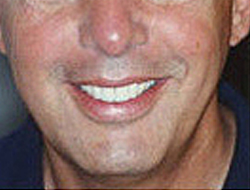 After
For most of his life, Nick had a fear of going to the dentist. In fact, his anxiety about climbing into a dentist's chair was so great that dealing with continuous pain in his mouth, and feeling self-conscious when he smiled, seemed to be better alternatives than receiving dental care. But after his first visit to Dr. Harold Pollack's office, his perception of dentistry began to change.
During regular visits with Dr. Harold Pollack and his team, Nick was well-informed about what to expect during dental procedures. His fear was eased and he was able to receive dental work he greatly needed. His confidence level was increased to the extent that he was able to undergo treatment that would change his life. After a series of procedures, including extractions and periodontal surgery, Nick was ready for dental implants. Implants are artificial replacement teeth. The implants were restored with crowns by Dr. Harold Pollack. They look and feel like Nick's own teeth, allowing him to chew and smile with ease. Also porcelain laminate veneers were done on the front teeth which were discolored and malpositioned. "It has given me more self-confidence in my appearance and it has allowed me to smile a lot more", says Nick, who used to try to cover his teeth with his upper lip when he smiled.
He advises those who experience a similar fear of the dentist not to put off taking care of their teeth, since it will only lead to greater dental complications in the future. He was fortunate to develop a relationship with a dentist he trusts. According to Nick, it was Dr. Harold Pollack's professionalism combined with his accommodating team that allowed him to take the first step towards a healthier mouth. "He has a genuine care for what he is doing and he is very proficient and professional in his approach," says Nick. "From Harold to everyone in the office, they always make you feel as though you are welcome and they are going to take good care of you".