Dana's Story
4 Porcelain Veneers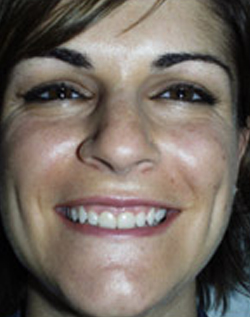 Before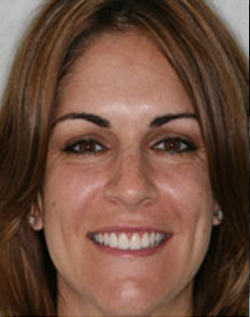 After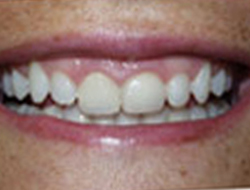 Before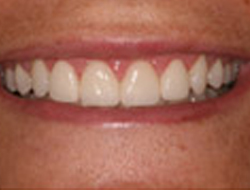 After
I can't believe this my smile! It's been a long road, which fortunately led me to all of you. It began with a childhood accident which over time caused my front tooth to darken. Then, many bleaching attempts and a rather sad looking attempt veneers from my longtime family dentists. Finally, Debbie recommended that I come see Dr. Pollack. I was so impressed by your work, professionalism and the family like atmosphere from that very first consultation, that I knew coming to Beautiful Smiles was the right decision.
You knew what to do from the start. After all, I had a lot of gum tissue which you correctly suspected covered some enamel, so you sent me off to the periodontist. He confirmed your suspicions and suggested surgery to lift the gum lift. Well, several months later, I got up the nerve to have the surgery and it was a success (and the healing wasn't too bad). After a few months of healing, we were ready to begin the process of whitening, then temporaries and finally the porcelain veneers. Your team couldn't have been more accommodating to my needs, more concerned for my well being or more caring of the outcome!
I commend you Dr. Pollack and your team for you continued outstanding work, your professionalism and your dedication to your patients. I whole heartedly recommend your services to anyone seeking cosmetic dentistry. You are a master in your field!
Thank you for your time, compassion and for tolerating many visits which included a 2 year old tag along! You are a great team!
Sincerely,
Dana P.