Tooth-Colored Fillings Vs. Dental Bonding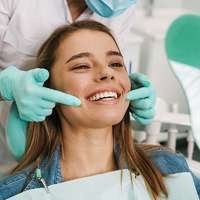 Our cosmetic dentist in New Jersey, Harold A. Pollack, DDS, offers several treatment options that can both improve dental health and enhance smile aesthetics. These options include tooth-colored fillings and cosmetic dental bonding, two of the most commonly-performed dental procedures available. These treatments are quite distinct from one another, and one is often better than the other when it comes to addressing certain dental concerns. Here are some of the basic differences:
Tooth-Colored Fillings
A tooth-colored filling is typically the ideal choice for patients who are experiencing cavities and tooth decay. Using a strong composite resin, cavities can be filled with material that blends in with the color of surrounding teeth, making the results look as natural as possible. Tooth-colored fillings, sometimes referred to as "white fillings" or "composite fillings", are generally considered to be a significant upgrade from the traditional metal fillings that used to be standard among dental practices. They also usually do not require as much structural alteration of the original tooth, ultimately providing a more discreet and conservative treatment when compared to fillings of the past.
Tooth-colored fillings are primarily recommended as a preventative and restorative treatment to improve the health of the tooth and protect it from further deterioration. For patients looking to address concerns that are more cosmetic in nature, a treatment such as dental bonding may be a solution worth exploring.
Dental Bonding
Dental bonding can address teeth that have become misshapen, chipped, cracked, or discolored. Often serving as an ideal option for enhancing the cosmetic appearance of an affected tooth, dental bonding can also be helpful for correcting mild teeth misalignment, as well as gaps, spaces, and teeth that appear "too short" in relation to the other teeth. Durable composite material precisely sculpted onto the tooth can improve a variety of aesthetic concerns while blending in with the surrounding teeth. Dental bonding is an incredibly versatile treatment and has helped many patients rejuvenate the appearance of their smile with long-lasting results.
Contact Beautiful Smiles
If you would like to know more about tooth-colored fillings and dental bonding procedures, please contact us today. We will be happy to answer your questions or assist you with scheduling an appointment.