Bob – Full Mouth Reconstruction with Crowns and Bridges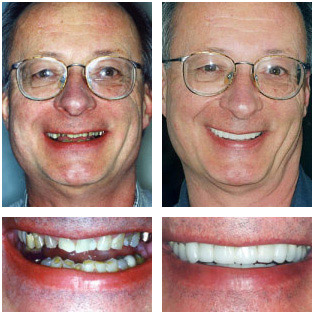 Bob never felt very self-conscious about his smile… until his restorative and cosmetic procedures were complete, and he was able to compare the before and after results. "Did they really look like that?" he asked us as well as himself.
According to Dr. Harold Pollack, at his initial exam, Bob was shown to have severely worn and fractured teeth. A diagnostic work-up and wax-up was performed as the guide to create healthy, functioning teeth and a beautiful smile. Bob knew that his teeth were very deteriorated and non-functioning. He also knew that something had to be done about it. Bob stated, "I felt confident in everyone at the practice and thought that I might as well live better and chew better." The final reconstruction, which consisted of crowns and a fixed bridge, gave Bob the ability to chew food, as well as have a great smile.
When we asked Bob for any comments regarding the overall experience, he replied that he was absolutely happy with the results. "I highly recommend that patients who need restorative or cosmetic procedures give it a very high degree of consideration, because it makes a significant difference. Now I can smile with the best of you!"