Diane – 4 Porcelain Veneers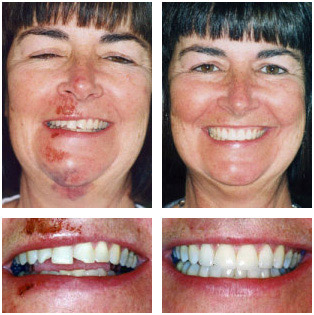 Diane always thought of her smile as her, "best natural feature" achieved without braces. Then last September while on vacation, she was walking near a Long Island light house. Due to the rainy weather and slick pavement, she slipped and fell, her jaw taking a good brunt of the fall. As well as scraping up her face a bit, two other front teeth had their corners chipped off and a third was cracked and pushed back.
Cutting the vacation short, Diane headed for home and while driving left a message with Dr. Harold Pollack's service. It was a holiday, so she didn't have much hope at reaching anyone, however, when she arrived home, there was a message from Dr. Harold Pollack saying to come on in.
Dr. Harold Pollack was able to give Diane a temporary fix on the appearance of her smile, while taking the measurements needed for the permanent laminates she would receive in a week. Dr. Harold Pollack also whitened the surrounding teeth to achieve consistency in the shading. "I was amazed at how quickly the whole process came together," Diane said. "Because of the temporary fix, I didn't have to walk around all week looking scary, and the permanent solution was in place only a week after the accident. The whole process was quick and painless. My friends and family tell me that they can't even tell I had an accident. It's amazing!" said Diane.
"I always knew that Harold was a perfectionist at his craft, and I think that's why I was so calm driving home from the accident that day. I knew I would be in good hands," she also said. As a patient for more than a decade, Diane was also very appreciative of the caring and support she received from Dr. Harold Pollack's entire team. "Not only did I get such a wonderful result, and in an emergency situation, but the follow up was wonderful too. Everyone there was interested in how I felt, calling me at home asking if I were okay," said Diane.